Find a Great Selection of Winter Tires for Your Toyota and Volvo
Cars Here at Jaffarian Automotive Group

At Jaffarian Automotive Group, we may be a bit biased, but we think that the Merrimack Valley enjoys the best of all four seasons. However, while spring, summer, and fall are fantastic here in Haverhill, the snowy weather of winter
undoubtedly brings with it some challenges.
Fortunately, we've got just the thing to help you tackle the challenges of winter with confidence here at
Jaffarian Automotive Group with our selection of winter tires for Toyota and Volvo cars.


---

How Do Winter Tires Work?
Whether you're coming to us from Methuen, MA or Salem, NH, you know that when the mercury drops in your thermometer and the first flakes start to fall, your morning commute is bound to be a lot more slippery.
Fortunately, the winter tires for sale here at our Haverhill dealership have a special rubber composition as well as unique tread patterns that help them remain flexible at low temperatures, while channeling snow and ice away from the tread wells. Whether you're commuting to nearby Andover, MA for work or running errands around Lawrence, MA, our winter tires will help you maintain confidence-inspiring traction no matter what winter throws your way.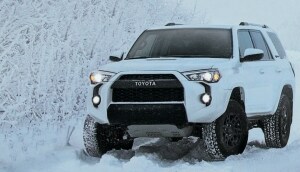 Why Do I Need Winter Tires?
At our Haverhill, MA Toyota and Volvo dealership, we've had the pleasure of serving drivers living in nearby Lawrence and Andover for quite some time, and we understand that many seasoned Massachusetts drivers are convinced that all-season tires are enough to get them through the winter. Unfortunately, that's simply not true - unless you just don't drive during the winter.
Having a proper set of winter tires can significantly improve your Volvo or Toyota car's safety during winter driving. Trust us when we say that all it takes is one errant patch of black ice to ruin your day if you don't have winter tires, so it's important to have them before the weather turns.

Visit Us at Jaffarian Automotive Group to Browse our Selection of Winter Tires Today!
At Jaffarian Automotive Group, we proudly carry winter tires from many of the top brands at our Haverhill, MA dealership, and we'd relish the chance to help you find the right set for your Toyota or Volvo car. We'll even help you change over the tires to ensure you're truly ready for the cold weather months. Don't hesitate to visit us at our dealership near Andover
and Lawrence to browse our selection of winter tires today!
---
Questions? Contact our Service & Parts Team