5 Reasons to Detail Your Vehicle


Paint Preservation
Washing and waxing your vehicle
is
a necessity
, not a luxury. When the paint is
compromised by dirt and grime, rust can develop and damage your vehicle,
lower resale value and potentially decrease the life of your car or truck.
Interior Condition
Cleaning the interior regularly protects surfaces from fading, leather trim from
cracking and discoloring and eliminates harmful bacteria that can build up on
your steering wheel, dashboard and seats. Keeping the interior windows clean
is also an important safety factor.
Safety
Keeping headlights and brakelights clean is an important safety issue as a coating
of road grime can reduce visibility, especially in rain or wintry conditions. Regularly
detailing tires and wheels also contributes to improved safety.
Road Salt
Winters in New England wreak havoc on our vehicles. The salt and sand can damage
paint, cause rusting on the undercarriage and deposits can build up in wheel wells,
potentially damaging tires as well.
Pride of Ownership
You likely spend a fair amount of time in your car and if just feels good to
keep it clean, safe, healthy and looking its best.



Treat Your Vehicle to a Day at the Spa!
Jaffarian offers full-service detailing with a menu of rejuvenating packages: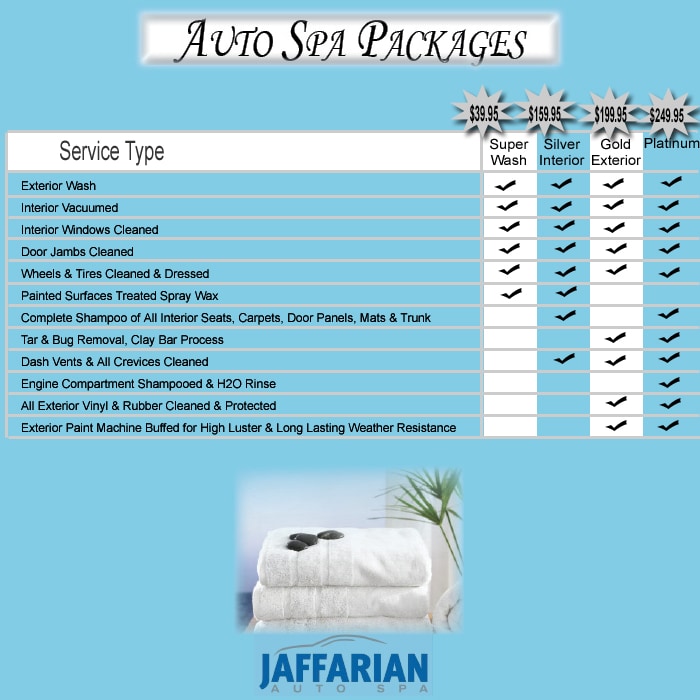 Call (888) 234-2854 to schedule your appointment today!