Need a New Set of Tires? Find the Right Tires for your Car Here at Jaffarian Automotive Group in Haverhill, MA
At Jaffarian Automotive Group, we're always striving to help our customers to get the most out of their cars.
One of the best things you can do to keep your car performing as safely and efficiently as possible is ensure that
you've got a fresh set of tires, perfectly sized and suited for your vehicle. Having the right tires for your vehicle can
positively affect every aspect of your ride, from fuel economy to safety.
Fortunately, at our Haverhill, MA Toyota and Volvo service center, we carry a wide variety of tires from top brands.
So, whether you're from right here in our hometown or shopping for new tires for your car near Methuen and Andover, MA,
you simply can't miss out on the opportunity to see what we have in store here at Jaffarian Automotive Group.


What Type of Tires Does My Car Need?
Now, with so many different types of tires available at our service center near Salem, NH and Lawrence, MA, it can be difficult to discern just what
type of tires are going to be best for you. Fortunately, if you need any advice on finding the right tires, the experienced technicians in our service
center here at Jaffarian Automotive Group will be only too happy to assess your needs and help you determine which type of tires will be ideal for
you, your vehicle, and your driving needs.
All-Season Tires: The most common type of tires, All-Season tires are designed for all-purpose use and functionality in most road and surface conditions.
Summer Tires: Designed for performance and grip in dry surface conditions, summer tires are a favorite of fans of spirited driving here in Massachusetts.
Winter Tires: Engineered to provide more traction in low temperatures, winter tires feature a rubber formulation that does not harden as much when the temperature drops, as well as a tread pattern that bites into snow rather than gliding over it.
---
Volvo & Toyota Tires FAQ
How can I tell if I need new tires?
There are a few telltale signs that your car is in need of new tires, such as uneven tread wear and cracking in the rubber along the side walls.
To check if your tire tread is low, insert a penny upside down into the well of the tire's tread. If the tread does not cover Lincoln's hairline, you
may be due for a new set of tires.
When should I get my tires changed?
The short answer is: it varies. If you're using summer or winter tires, you'll want to have your tires changed over with the season to ensure optimal performance. However, with all-season tires, different brands and your driving habits will mean vastly differing usable lifespans. So, it's good to check your tires regularly, or consult with our service technicians to know when your tires are due for a change.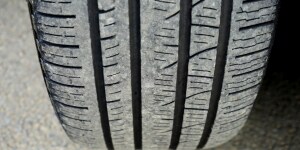 What type of tires are best for my Toyota or Volvo car?
The best way to decide what tires are right for you is to check your owner's manual. However, with our many years of experience in servicing Toyota and Volvo vehicles for drivers all over our hometown and the nearby communities of Methuen, Andover, Lawrence, MA and even Salem, NH, the service technicians at Jaffarian Automotive Group are well-equipped to help you find a set of tires that will perfectly fit and function with your specific Toyota or Volvo car. Feel free to visit our service center in Haverhill, MA any time to explore your tire options with us!
Questions? Contact Our Service & Parts Team
* Indicates a required field