Brake Problems? See How We Can Help at Jaffarian Automotive Group
You may not think about it much, but your car's brakes are easily one of its most important components.
Unfortunately, for many drivers here in the Merrimack Valley, brakes are the one of the last thing they think of when
it comes to maintaining their cars.
However, as one of the premier resources for Toyota and Volvo service here in Haverhill, MA, brakes are one of the first
things on our mind here at Jaffarian Automotive Group. Our aim has always been to help our customers get the most
out of their Toyota and Volvo vehicles, and maintaining their brake systems is imperative to doing just that.
So, in the interest of emphasizing just how important it is to keep your Volvo or Toyota vehicle's brakes in top shape,
we've put together a bit of information how braking systems work, what common problems you might experience,
and how we can help here at our Haverhill Toyota and Volvo service center.
---
How Do Brakes Work?
Now, Volvo and Toyota cars are sophisticated machines, and their braking systems are equally complex. However, by and large, you're going to see two types of braking systems in most Volvo and Toyota cars: drum brakes and disk brakes.
Drum Brakes
Drum brakes are less common than disk brakes these days, but are still used on as the parking brake system of some cars and the rear wheels of some Toyota trucks. Drum brakes have components called shoes housed inside a hollow hub. As you apply the brake, the shoes press outward inside the hub, pushing into the wheel to create friction to slow the vehicle.
Disc Brakes
Disc brakes see much more common use these days. Even some Volvo and Toyota models with drum brakes on their rear wheels use disc brakes on their front wheels. When you press down on the brake pedal with a disc brake system, brake fluid is pressed into a caliper, which presses down on a piston. This in turn presses the brake pads against the brake disk, creating friction and slowing your vehicle.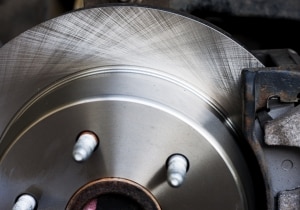 Now, even if you don't know what kind of braking system your Volvo or Toyota car uses, don't worry. As one of the premier resources for Toyota and Volvo brake repair near Andover and Lawrence, MA, we've seen and serviced it all when it comes to brakes.
So, whether your Toyota truck's drum brakes need new shoes, or you need new brake pads for your Volvo, you can rest assured that our knowledgeable service technicians will know exactly what you need here at Jaffarian Automotive Group. In fact, we've even put together a brief breakdown of the common brake maintenance and repair issues we fix on a daily basis here at our Toyota and Volvo service center in Haverhill, MA.
---
Common Brake Issues
Slow response
When you press down on your brake pedal, you should see an immediate response as your vehicle begins to decelerate. If this doesn't happen, you may have a serious problem. One possible cause of slow brake response can be air leaking into the hydraulic brake fluid system, compromising its effectiveness. In this case, it's important to bring your car to our service center near Methuen, MA as soon as possible to have your brake hydraulic system inspected. Alternatively, slow brake response can also be caused by significantly worn brake pads, which would necessitate a brake pad replacement.
Vibration in steering wheel and / or brakes when stopping
This is usually caused by a problem with your brake disks. Brake disks on Volvo and Toyota cars are sturdy pieces of equipment, but excessive heat,
poor quality aftermarket brake pads, or driving long distances in extreme conditions can cause them to warp or become distorted. Luckily, it's
only too easy for the technicians at our service center near Salem, NH to inspect your car's brake rotors, assess whether or not they're causing
the vibrations,  and replace them if necessary.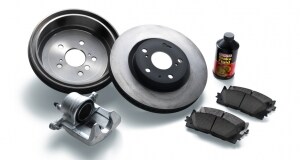 Squealing, grinding or strange noises
This is easily the most common concern we hear from drivers who come into our service center near Andover for brake repairs, and nine times out of ten, it has to do with the brake pads. This often necessitates a brake pad inspection in which our technicians will assess the wear of your brake pads and determine if they need to replaced. Trust us when we say that this is not an issue you can just ignore, as driving around with worn brake pads can cause irreparable damage to your brake disks, resulting in costly repairs down the road and making your vehicle very unsafe to drive to boot.
Sinking brake pedal
If you press your brake pedal and it sinks to the floor, chances are you have a brake fluid leak. This is a very serious safety issue, one that could
result in a braking system failure on the road, so it's imperative that you get in touch with our service center staff here in Haverhill, MA immediately
if you experience this issue.
Pulsing brakes
There are typically one of two causes for pulsing brakes. Either your brake disk is warped and the pulsing comes from the brake pads struggling to maintain contact with the disk, or the rubber seals on your brake pads are failing and they're not disengaging properly. In either case, if you want to avoid damaging your brake disks, you'll want to come in to our service center near Salem, NH for an inspection as soon as possible.
---
See Why So Many Drivers from All Over the Merrimack Valley Trust Jaffarian
Automotive Group with All Their Toyota and Volvo Brake Services!


Of course, if you have questions or concerns about your Volvo or Toyota vehicle's brakes, don't hesitate to get in touch with us here at Jaffarian Automotive Group. In our many years in business, we've served the brake maintenance needs of drivers from Lawrence to Andover and all points in between, and we'd love to count you among our satisfied customers. At our high-tech Toyota and Volvo service center here in Haverhill, MA plays host to an experienced staff of technicians, a well-stocked inventory genuine OEM parts including an array of high quality Toyota brake pads and Volvo brake pads, and the latest in tools and diagnostic equipment.

Our sole goal is to help you get the most out of your Toyota or Volvo car, and with the expertise of our team and the commitment to customer service and satisfaction that has guided us for generations as a family-owned business here in Massachusetts, we're well-equipped to deliver just that!

Make sure to schedule your next visit for brake maintenance with our service center here in Haverhill, MA today, and see why so many drivers trust Jaffarian Automotive Group with all their repair and service needs.
Questions? Contact Our Service Team