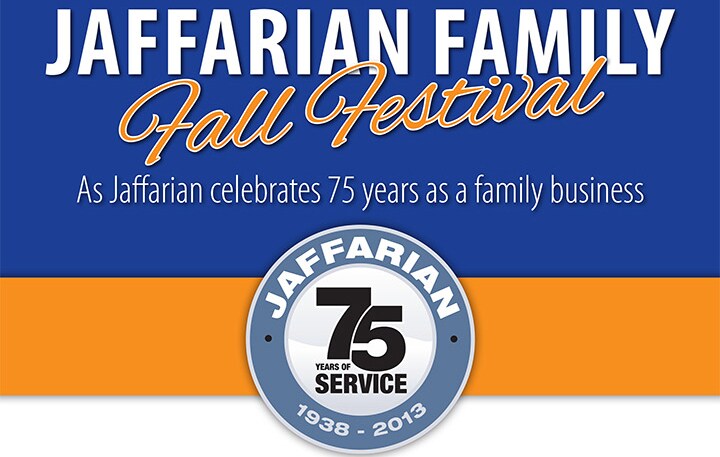 Thank you for joining us as we celebrated 75 years
as a family business in the Merrimack Valley!
We hosted a 
fun-filled day of festivities from 10 a.m. to 4 p.m. on Saturday, October 19, at the Jaffarian Automotive Group, New England's oldest Toyota and Volvo Dealership, located at 600 River Street in Haverhill.

Along with us, we invited two other family-owned businesses Rogers Spring Hill Farm and Butcher Boy Market to celebrate and together we represented 250 years in business and 11 generations of families!
The Family Fall Festival offered something for everyone including a live band called Four on the Floor, an official Toyota Nascar Pace car, a "race car-themed" bounce house, an antique Toyota and Volvo car exhibit restored by Jaffarian, face painting, pumpkin painting provided by family members of Rogers Spring Hill Farm, and a special cookout featuring hot dogs and hamburgers grilled to perfection by members of the Butcher Boy family.
"This is a celebration of family and family business and we are thrilled that these two great family-run businesses joined us," said Gary Jaffarian, president and CEO of Jaffarian Volvo Toyota. "Like us, they each exemplify a family run business that offers quality products and services to their customers. Rogers Spring Hill has done the dealerships' flowers for years and we have done business with Butcher Boy both personally and in co-marketing efforts for years as well.  When these two family businesses said yes to the Family Fall Festival I knew we'd have a great event for families to enjoy!"
View historical photos and photos from the 75th event in the slideshow below: